OUR HISTORY
Archbishop Padmashree late Dr. M.A. Thomas is the founder and chairman of Emmanuel Ministries. He was born to a poor country farmer's family in Kerala. Because of his unsurpassed passion for God and his love for the people of India, he dedicated his life to transform the lives of many orphans/abandoned and underprivileged children, lepers and widows, and of the poor and the aged. Emmanuel Mission International now runs Children's Home, ministry among lepers, Bible Colleges, and Schools all over India
Dr. Thomas sincerely considered the development of each child as a profound privilege. As King Solomon wrote, "Train up a child in the way he should go, and when he is old he will not depart from it" (Proverbs 22:6). He realized that this was possible only through the fear of God and education. Thus the first Emmanuel School was opened in Kota, Rajasthan in 1967, with an aim and goal to train up every child in the fear of God because we believe that: "The Fear of the Lord is the beginning of Wisdom." We want to see children from every background regardless of caste, creed or religion to come and get the best education, and then go forth to serve their community, making our nation, India, a better place. And thus "Come Forth to Learn and Go Forth to Serve" became the motto of Emmanuel School.
From that humble beginning, today by the grace of God, Emmanuel School is spread across the nation of India, with the same goal of equipping its students with a love for God, and a desire to serve their families and their nation. It is this God-given vision that makes Emmanuel School distinct from other schools.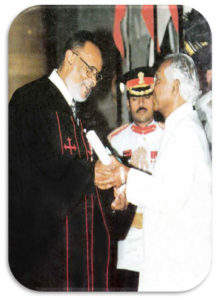 LATE ARCHBISHOP DR. M A THOMAS RECEIVING PADMASHREE AWARD FROM THEN PRESIDENT LATE SHRI K R NARAYAN
LATE ARCHBISHOP PADMASHREE DR. M.A. THOMAS RECEIVING MOTHER TERESA AWARD
OUR PURPOSE
Our main purpose is to develop a society with a high standard of values and morality, and it is possible only through 'the fear of God' and by laying a 'solid foundation' in our students for a better tomorrow.
OUR MISSION
We exist to impart quality education by providing a positive learning atmosphere through careful mentoring, enabling our students to become active contributors both for our nation and to the International Community.
our beginning in tenkasi
Emmanuel Matriculation Higher Secondary School was founded by Dr. & Mrs. Sam George. It was launched in Melagaram, in June 1992, with the aim of educating every child, in and around Tenkasi district. At Emmanuel, it is our prayer that 'no child goes unschooled.' We aim for the all-round development of a student with equal emphasis given to all fields for a bright future of our students.
EMHSS is recognized by the government of Tamil Nadu, and is an ISO 9001:2015 certified institution.
EMMANUEL MEANS 'GOD WITH US'